Baltimore Roofing Services is a well known roofing contractor that provides the very best residential roofing services in Baltimore. Services include new construction roofing, roof replacement, and roof repair for homeowners needing immediate assistance from a professional roofing company in the area. Our certified installers and repair personnel offer reliable expertise and thorough care with your home & the work we do using advance products and systems you can depend on.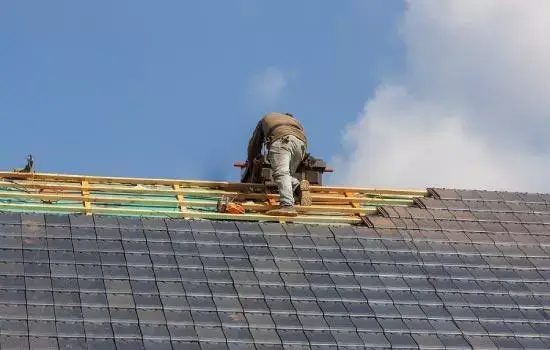 We offer complete roof replacement for your home if you are having roof problems or if you're simply looking for a new appeal to your home. Roof tear-offs and reinstallation with new roofing products is our standard protocol & main service provided in Baltimore.
If your roof is fairly new and requires a simple fix our roofing experts are here to help. We match all types of shingles so that your roof continues to look seamless while repairing whatever damages that need to be fixed.
Roofing Products By CertainTeed
We believe in only prodiving the best roofing products the industry has to offer- and with CertainTeed roofing shingles and systems you can expect beautiful designs and trending styles that will make your home stand out. Take a look at our video below and learn about the many styles included with the CertainTeed products.
CertainTeed Visualizer for Designer Shingles
Common Symptoms of a Roofing Problem
1. Roof Wear and Tear – Normal wear and tear of your roof is common from standard weather conditions. Over time your roofing shingles can get worn out and begin to deteriorate. You will notice signs of 'curling' where the shingles will start to cave and curl inward.
2. Shingle Deterioration – Another form of deterioration is when the padding and miniature stone protection on top of the tar of your shingle begins to fall apart or grind down leaving it vulnerable.
3. Shingle Holes – If left unchecked for an even longer period of time your shingles can start to deteriorate entirely, creating holes in your roof. These are especially common in 'hotspots' of your roof where it's most exposed to sunlight and rain.
4. Missing Shingles – If poorly install sometimes you can have shingles that are completely missing when not secured correctly. This disrupts the flow of rain and wind, and will damage the structure of your home.
Customer Reviews and Work Requests
Average rating for Baltimore Roofing Service is 5 stars of 5 stars – based on 12 reviews
Roofing in Baltimore, MD
The men were on the job site early everyday, they worked hard and finished on time. Price was the best out of five, and we were very happy overall. I would recommend this company again.
David P. - Baltimore, MD 21215